09-10-2014, 05:30 AM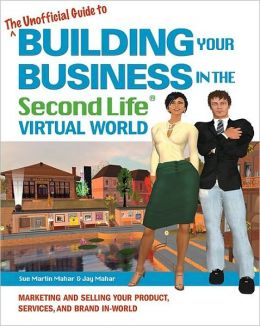 Paperback: 320 pages
Publisher: AMACOM (March 25, 2009)
Language: English
ISBN-10: 081441270X
ASIN: B008SLH3VM
One of the hottest trends in pop culture, Second Life®, is a virtual, 3-D "world" that exists on the Internet. Populated by adults and teens alike--in numbers going into the tens of millions--those who use Second Life® barter and buy much the way they do in real life. They're also just as open to ads, products, and marketing--and businesses are just now discovering the enormous potential.
A comprehensive, in-depth guide to the opportunities in this new marketplace, "The Unofficial Guide to Building Your Business in the Second Life® Virtual World "gives readers practical tips and strategies for creating an income stream, and marketing or extending a brand on the site. The book provides relevant examples--from IBM creating a collaborative virtual work-space, to start-up companies with virtual goods, to Princeton University offe-ing Second Life® classrooms--and provides proven techniques for successfully generating buzz through Second Life®-centered promotions and adver-tisements. This is one book that reveals the best ways to make money using the hottest thing online.
You are not allowed to view links.
Register
or
Login
to view.